Get Leaking Shower Repairs at The Earliest
A leaking shower is not only annoying and expensive, but it also leads to huge wastage of water. If the shower is leaking on the hot water side, then it wastes a lot of energy too. It is important to get leaking shower repairs done as soon as you come to know of it. If you ignore it, it can lead to significant damage to your building's structure as well. Actually, you are fortunate if you can see water dripping from your shower faucet or showerhead, because this means the leak is external. An internal leak would mean that the shower is leaking inside the wall, floor or ceiling. This leakage is not easily detected and would lead to extensive damage and repairs are not easy. Let us learn more about leaking showers and how they can be repaired.
Symptoms of Leaking Showers
As already mentioned, it is good if you can see water dripping from your faucet or showerhead. If this water did not come out, it would have got trapped inside the wall or ceiling and caused extensive damage to your structure that would be hard and expensive to repair. Here are a few signs that can tell you if you have an internal leak in your shower:
Flaking paint on the walls
Carpet that stays wet all the time
Gaps visible on the wall joints and floor
Missing grout from the floor or walls
Discoloured grout or tiles
Mouldy silicone
Jammed door of the bathroom
Visible water marks on the ceiling of the bathroom
If you notice any of these signs inside your bathroom, especially around your shower, then it is possibly leaking. You should immediately call professionals to carry out the requisite leaking shower repairs.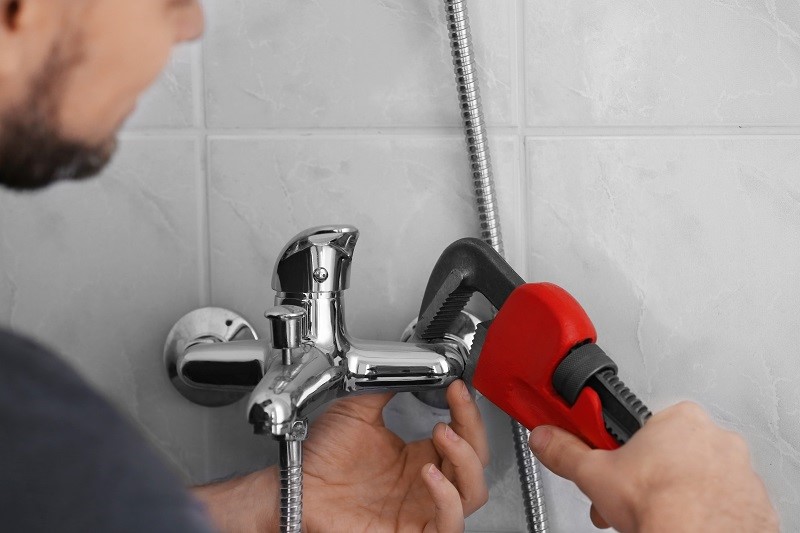 Possible Causes of Leaking Showers
After noticing these signs, if you are sure that there is a leak in your shower, then the first step is to find out its origin. Since leaking water can travel down pipes and become visible in a totally unexpected area, you should start investigating the cause of the leak so that you can get started on the leaking shower repairs.
If your showerhead is leaking, then the cause can be lime scale. Lime scale deposits can clog the holes of the shower, causing water to come out from other openings. If your showerhead looks crusty, then you need to clean it to open up the holes.
Another common cause of leaking showers is the O-ring inside the showerhead. Take the showerhead off its arm and look at the O-ring in it. If it is rough, you can easily resolve the issue by replacing it with a new one.
A leaking showerhead may be caused due to worn out valve components as well. In that case, you can replace the cartridges or stems to resolve the issue of the leaking shower.
If someone in your house adjusts the showerhead every time he or she gets inside, then the arm can loosen up due to regular movement of the riser pipe. If this is the cause of your shower leak, reinstall the showerhead and arm with a new wrap of plumber's tape.
Pre-fabricated shower pans can crack or puncture over time. To replace these you will need to look for a professional specialising in leaking shower repairs.
Now that you have gained information about the symptoms and causes of leaking showers, you can either repair it on your own or call professionals to get the job done. Make sure that the person you call is qualified and experienced enough in their field and they have all the required skills and tools to carry out your leaky shower repairs with expertise. You should not ignore any dripping water or symptoms of leaks in the internal structure, since they can lead to extensive damage and soon become hard to repair.