Top Three Interior Designs fit for Your Condo
Looking for a place to rent should not be a hard task to accomplish. Why? There are available condos for rent in Taguig that would be an excellent choice for you. The amenities in the location are great considering the immediacy of the business centers and shopping regions. The modes of transportation are accessible in your area also.
Now, you may consider keeping the simple interior design of the condo you've rented but think again. It would be better to come home to your condo with the essence of being something that's yours. You decorate your condo according to what your preference and likes are.
Shaping the condo based on your ideas creates a sense of ownership to the place. You may be renting out the apartment, but it needs to feel like home. Inviting friends over and showcasing your home would not be the same if it does not resemble what home is like to you. Decorating the place is an exercise of the mind and the body also.
But if you are unsure about the interior design you want for your condo, here are the top three interior designs that you might like. If you are in favor with one of these styles, then you should organize it in your condo space.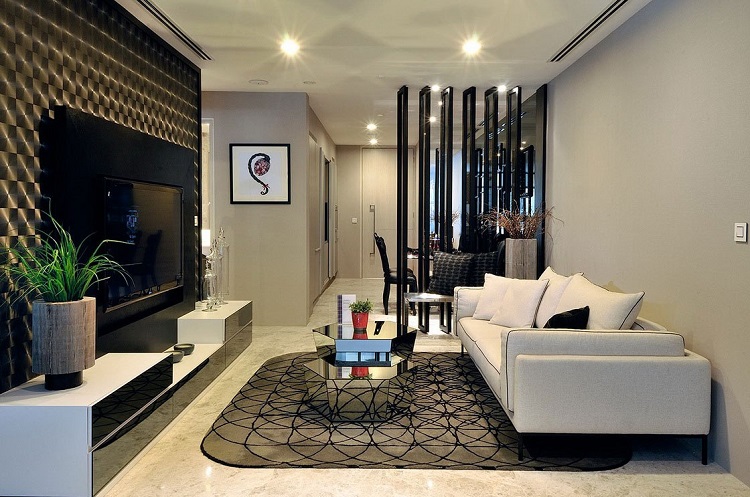 Moody, Dark Accent
Shades of a dark color are the new trend in interior design for most homes. Accents like navy blue (or royal blue), onyx black (or jade black) and seaweed green are some of the shades that home owners use for their design. The moody vibes bring out an overwhelming sense of dominance and subtle feel of charm.
Of course, filling up the whole condo with the same color is not necessary. Choose the spaces that need an accent, for example, the walls, lamp shades, chairs or curtains. Have variations of the color accent, but keep the consistency of the color tone. Add white tones in combination with the dark color to put more emphasis.
Touches of Turquoise
Favorite colors can influence your choices in design, specifically on how your place would be defined. A lot of people love the color blue, but with all the shades, it's hard to choose. One admired color tone used by home owners is turquoise.
Surround your rooms with this rich shade and bring colors of lightness in your home. The opaque tone of turquoise goes well with pillow cases, throw pillows and mattresses. Lighter shades, like pale turquoise, can be sheer curtains while the darker tone can be mantels.
You can even add little things in the house that match your accent. Choose plates or glasses that have shades of turquoise on the sides or tips. To complete the assemblage, cover the walls with neutral shades like ivory, cream, sand, nude, beige and white.
Go with Gold
Another fancy way to decorate your home is through the use of gold. The glamorous shade offers glitz for your rooms and a striking touch of energy. Sunny yellow curtains matched with a butterscotch sofa set and you should feel the sunburst of colors.
Besides that, you can have hints of gold on your things (napkins, towels, pillows) to sparkle up the room without drowning everything in that particular color. Complete the ensemble by adding the color black or white in the room decorations. Gold matched with these colors bring out the glitter you need for your condo.
And that completes the top three interior design that would fit your condo. Either decoration would be good for your place, as long as you are comfortable with it and you like what you're seeing.