5 Uncommon but Powerful Looks to Consider for Your Kitchen
Kitchen design is among the most exciting in-home decor. The variety of different styles, colors and materials make kitchen designing a go-to for people looking for a smaller remodel project.
Thrown in with all the traditional means of manufacturing, there are a lot of cutting-edge innovators that are breaking new ground and showing what it possible in the world of home design.
A brilliant place to start is kitchen cabinetry. Unrestricted by set sizes, colors or even shapes, here are some personal favorites you may not be aware of.
DIY
If you're a creative mind that wants to really stand out, then consider a DIY approach to your kitchen cabinets.
You can quite literally use any materials or recycled and repurposed household containers you can think of; reclaimed wood, old containers, fairytale style shelving, whatever you see in a charity store that sparks inspiration.
The more obvious benefit of mixing and matching with this kind of free abandon is that it's super cheap! Recycle old containers and drawers, use some old barrels, anything you want. If it holds things, it can be a kitchen cabinet.
Gothic
Combine a lighter wall shade (but not white) with some beautiful arched dark wood frames. Fit glass panels with black piping, and you've got a beautiful Gothic kitchen.
Using some elements of Gothic chic against some lighter, more airy tones in the kitchen is the best way to get the style across without making your kitchen too dark and uninviting.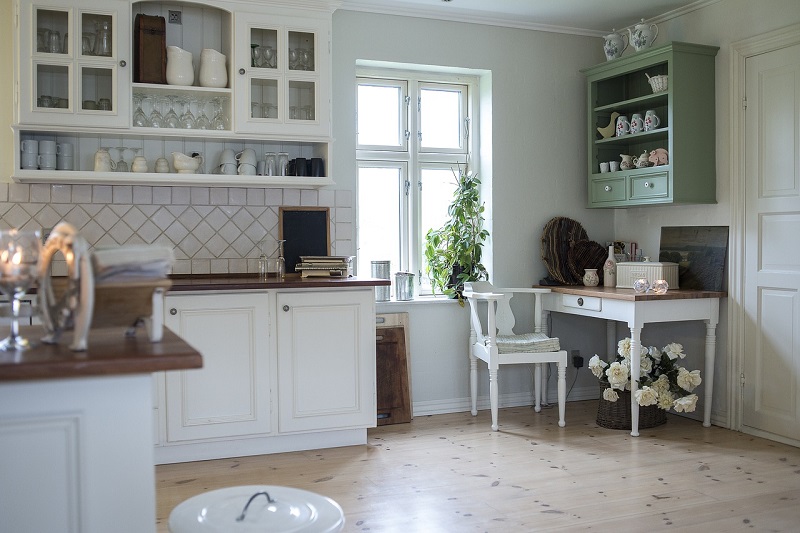 Keep the dark wood going over the countertops and accessories, with cream appliances for gorgeous contrast.
Box Shelves
Installing a grid system of open shelving instead of traditional cabinetry is an interesting way to go. With open wall shelves, you can display your favorite mugs or appliances.
Using a grid system is great for organizational displays of symmetry. Shallow shelves give your kitchen more space, and you can build more levels into them, so the height cancels out the loss of depth.
Metal
Metallic cabinets are a luxurious choice for a high-end kitchen. Different metals provide a range of colors and tones, from dull and refined to lighter cabinets with a shine.
Treated metal is fire, water and heat proof, giving it the properties to withstand anything that you can throw at it.
You can also use metal as a beautiful finishing piece with hardware. Brass or copper knobs look fantastic in rustic kitchens, or a brushed gold look if you're feeling bold.
Reflective Gloss
A little pricier than most laminate options, but a set of high gloss cabinets will brighten up your kitchen like nothing else.
The reflective panels add a picture of extra size to the room. Unlike glass, though, gloss doesn't reveal the contents of the cabinet, meaning it's great for base cabinets where you might keep supplies you don't really want to show off.
High gloss works in any color, personally the brighter the better, as a loud, reflective color brings vibrance and life into the kitchen.