6 Simple Backyard Ideas to Create Your Backyard Oasis
So, you've renovated and remodeled the inside of your home to perfection, but what about your backyard? Do you frequently gaze out of your kitchen window to your backyard, stressing over what could be a backyard oasis? Wishing you had the time or the means or the help to create the perfect backyard? An outdoor sanctuary is not hard to come by and, thankfully, we've got some great backyard ideas to help you transform your dull, drab and boring yard into the backyard living space of your dreams!
But, how?
If you're looking to create an outdoor sanctuary perfect for entertaining, you've come to the right place. Whether you're looking for modern backyard ideas, simple backyard ideas, outdoor party ideas, outdoor living space ideas or backyard oasis ideas, we've got you covered. Keep reading for the top 6 simple backyard ideas to transform your outdoor space into a backyard oasis!
#1 Nature: Gardens & Pathways
To create an outdoor oasis, the first and foremost thing you should do is let the natural environment take center stage. Your backyard is, after all, outdoors, and so you want to create an environment that blends the natural elements with your own design aesthetic. The primary purpose of an outdoor oasis or a backyard living space is to escape the hectic daily routine and to enjoy your natural surroundings.
Your backyard living space is your opportunity to reconnect with nature. While outdoor furniture and decor is great when used appropriately, you should focus on landscaping, florals, plants and trees indigenous to the area, nature and fresh air. There's a lot of ways you can let your natural environment take center stage.
Some simple backyard ideas for nature include:
Planting perennial flower beds.
Creating an edible vegetable and citrus garden.
Purchasing and planting trees with large canopies to spread shade across your backyard oasis.
Planting evergreen shrubs mixed in with blooming bushes.
Creating a stepping stone, rock or wood pathway throughout your garden so that you can meander through your gardens.
Adding garden pallets throughout your backyard. Plant tomatoes, herbs or squash!
Of course, the kinds of plants you can grow in your backyard oasis is dependent on your location. For example, if you're looking for Arizona backyard ideas, it might make more sense for you to plant cacti, succulents and ground cover plants. Regardless, no backyard living space is complete without its carefully cultivated natural beauty.
#2 Seating: Hammocks, Tree Benches, Swings & Comfy Seating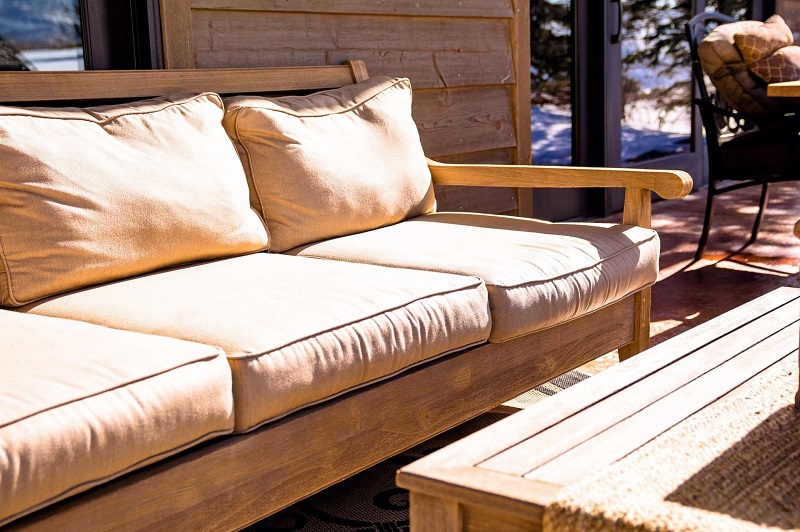 Outdoor seating is the second most important feature of your backyard living space next to your natural environment. With a variety of seating spaces, arrangements and types, you can comfortably accommodate any type of gathering you might have in your backyard oasis.
Hammocks: You couldn't ask for a more relaxing backyard feature. With a hammock, you can take advantage of your natural environment and the fresh air in style. Add a rug, some bohemian throw pillows and a colorful blanket for a backyard living space to die for.
Tree Benches: Do you have a big tree in your backyard? Use it! When you build a tree bench around the base of the tree, you can create a comfy and inviting space for an afternoon of reading or a deep conversation among close friends.
Swings: Do you have a young family with lots of little kiddos running around? Or perhaps you're just young at heart! If you have a sturdy tree in your backyard, adding a swing is a great option to encourage some fun. Even if you don't have a huge tree, there are still other ways you can add swings — think swing sofas!!
Comfy Seating & Furniture: With a couple different outdoor sofas and chairs, you can make sure that everyone has a space to sit and relax when they come over for drinks and dinner. Outdoor patio and garden furniture has come a long way just a few short years so that now, you can create a backyard oasis that is all about comfort, leisure and style. Consider outdoor daybeds, dining tables, small end tables, oversized loveseats and lounging chairs for all your outdoor seating!
#3 Eating: Outdoor Bar, Kitchen & Dining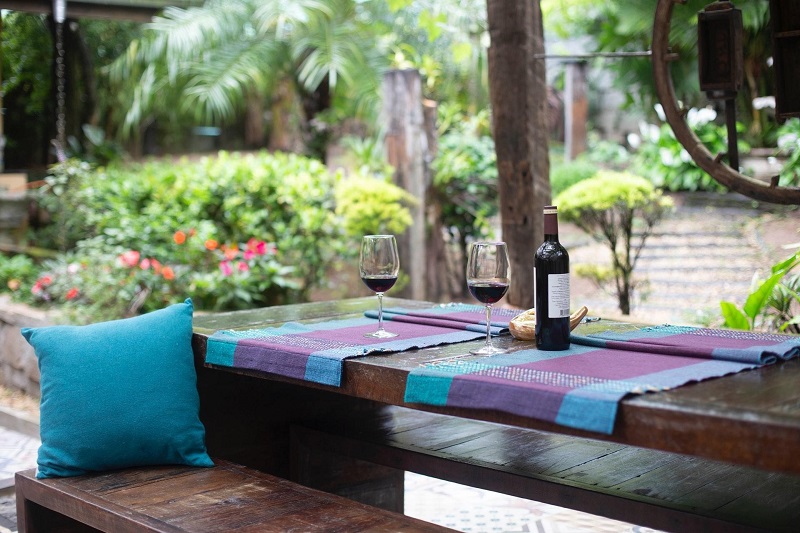 Outdoor eating and dining is one of the best simple backyard ideas! With outdoor dining, you can use your backyard living space as an outdoor oasis filled with good food, good drinks and good times.
Outdoor Kitchen: With an outdoor kitchen, the possibilities are endless! At the end of a long day, head outside to your backyard living space, throw some steaks on the grill and grab a drink from your outdoor bar. Additions like a trash compactor, small refrigerator, sink and stove top will take your entertaining patio to a whole new level!
Outdoor Bar: Your outdoor oasis should be a place for celebrations, moments of serenity and happiness. With an outdoor bar, you can cultivate both intimate conversations and ecstatic celebratory moments.
Outdoor Grill: There is nothing quite like grilling on your outdoor backyard grill (AKA your outdoor oasis!!). A built-in grill with an adjacent counter space gives you everything you need to cook fantastic meals in your backyard oasis.
Outdoor Dining Room: Treat your outdoor dining table like your indoor dining room table! Al fresco dining is the way to go and is definitely all the rage right now. Add chairs, linens, dishes, glassware and decor galore! If you're looking for outdoor party ideas, creating an outdoor dining room space is an absolute must.
#4 Ambiance: Lighting, Fire, Fountains & Pool
The challenge for some homeowners undergoing a backyard remodel is how to create the ambiance and mood they want. For instance, you want something that is relaxing and comforting, but also unique and you. Furthermore, you have to create a soothing atmosphere without walls or ceilings and entirely exposed to the elements.
So, how do you create ambiance?
Creative use of lighting, fire pits, lanterns and water features helps you to create the atmosphere you're going for. First, consider your natural environment and surroundings. Do you have a view of the ocean or a nearby mountain range? Is your garden and landscaping absolutely perfect in every way possible? If so, then maybe you don't need too many additional elements to create ambiance — let your stunning backdrop take center stage!
If you're looking to add additional elements, then the outdoor ambiance you create is one of the most important simple backyard ideas out there. You want to make sure the mood and overall feel of the space is what you're going for. Do you intend to hang out and tell scary stories? A fire pit is a great idea. For Arizona backyard ideas, a pool is a superb idea to help get the kids out of the house in the summer and actually enjoying the hot weather. With certain key features, you can create a backyard oasis filled with character and a relaxing atmosphere.
Check out these simple backyard ideas to create ambiance:
Lighting: Hang up some string lights above your outdoor dining table or outdoor bar. Hang some lanterns in your yurt or gazebo. Use light just enough to illuminate the pathways and the different spaces, but not so much that you feel you're indoors!
Fire Pit: Fire pits with ample seating allow for socialization. Nothing says cozy like the glow of an outdoor fire pit on a warm summer night. If you're looking for a stunning focal point, stone and brick fire pits help to create a backyard living space where you and your guests will want to gather and share a glass of wine.
Fountain & Water Features: Fountains and water features are just as comforting, soothing and relaxing as an outdoor swing or hammock. With a cool breeze and a large tree swaying overhead, this is one of the best simple backyard ideas to help you transform your outdoors into a backyard oasis.
Pool & Swimming: With a feature like a swimming pool, you and your friends and family will be entertained for days on end! No need for video games and TV when you have a swimming pool in your very own backyard oasis.
#5 Spaces: Trellis, Pergola, Arbor, Veranda, Yurt & Gazebo
Outdoor rooms (such as trellises, pergolas, arbors, verandas, yurts and gazebos) help to delineate between separate spaces and distinct purposes. If you're looking to let your natural environment take center stage, a trellis, pergola or arbor would be best. If you're looking to creating an outdoor sitting area or dining area with slightly more protection from the elements and lots of outdoor seating, then a veranda, yurt or gazebo makes most sense.
Regardless, delineating between outdoor spaces is one of the best simple backyard ideas to help you create your very own backyard oasis!
Trellis: Are you wondering, what is a trellis? A trellis is an outdoor wooden structure with a lattice framework of interwoven pieces of wood, metal or bamboo, which is used to display climbing plants. A trellis is usually composed of vertical panels that do not create shade nor form into an arch or a roof.
Pergola: What is a pergola? Pergolas, like arbors, support climbing plants, but pergolas have a roof and posts, rather than an arch. Pergolas usually cover a larger space, such as a sitting area, dining area or long walkway.
Arbor: What is an arbor? An arbor incorporates a trellis into its structure, which creates a tunnel-like, or arch-like, passageway with climbing plants along its structure. Arbors are usually part of gates that enter into a garden.
Veranda: What is a veranda? A veranda is a roofed platform along the outside edge of a house. A veranda is typically partially enclosed by a railing and is a roofed, open-aired porch.
Yurt: What is a yurt? A yurt is a portable, round tent. The circular, angled ceiling and the walls are typically composed of a latticework of wood or bamboo.
Gazebo: What is a gazebo? A gazebo has a similar shape to a yurt, except that it is open to the elements. There are no true walls to a gazebo; instead, there is oftentimes a railing that goes around the octagonal shape. Eight posts connect the railing and floorboard to the angled roof.
#6 Personalization: Artwork
Personalizing your backyard living space will take it from a simple outdoor area to the backyard oasis you've been pining for!!
Check out these simple backyard ideas to personalize your backyard oasis:
Paint a mural on your wooden fence.
Use recycled materials, like old bathtubs, old wooden doors or metal headboards as accent pieces throughout your garden.
Paint an old wooden chair a bunch of colors! It might not be sturdy enough to sit on, but  it's definitely sturdy enough to support a potted plant.
Fill an old wagon with a bunch of smaller potted plants. Or, make a small flowering bed with the wagon!
Transform an antique wood headboard into a gate to attach to your pergola or arbor.
Place garden statues (like imps, gnomes or gargoyles) throughout your flower beds.
Have an old stump leftover from a large tree in your backyard? Paint a checkerboard on its surface.
Paint your garden shed so that it looks like it is part of a mystical, magical forest.
Get creative with your flower beds: use curved structures to create unique pathways throughout your garden.
Using broken pottery, create a mosaic for your stepping stone pathway, benches or birdbaths.
Use the shape and design of garden furniture to accent and compliment your garden plants.
Start a collection of garden watering cans to make a focal point in the garden.
Paint an old, wooden step ladder a bright color and line the steps with small, potted plants.
And there you have it!
Six simple backyard ideas to help you transform your boring outdoor living space into your backyard oasis!
To create the backyard of your dreams, it isn't that hard and you don't have to break the bank! Just follow these 6 simple backyard ideas, customizing along the way, to create the backyard oasis you've always wanted!
This post was written by Kara Roberts, blogger and content writer for Canvas Vows. We specialize in creating custom made canvas prints and have been featured in a number of publications, including Brides. For more interior design tips, gift ideas, anniversary celebrations, and personalized canvas creations check out our blog!