9 Must-Haves For Creating A Homey Modern Farmhouse Kitchen
The kitchen is the heart and soul of a home.
In this often messy and busy place, food that gathers people around the table is prepared thoughtfully and shared. This is where you cook up comfort food and bake desserts that excites and impresses your family and celebrate the simplest and greatest happenings. And when we talk about creating a timeless kitchen that's both functional and has the homey feel, you can never go wrong with farmhouse style kitchens.
With their modest design with a few touches of rustic architectural features, countryside-inspired spaces take you back to simpler times – and probably remind you of your grandma's cooking.
If you're remodeling your cooking and dining space, here are 9 tricks for pulling off a lovely, homey farmhouse kitchen of your dreams.
1.  Farmhouse kitchen mainstays
A few rustic architectural features and furniture pieces can provide your modern kitchen a sense of countryside living. Details like open beams, wooden floors, butcher block countertop or island, X brace farmhouse tables, benches, and island, unfinished mantel shelves, and under-mount sinks are some of the hallmarks of a farmhouse kitchen.
Countryside-inspired kitchens also look light, open, and airy. Make use of whites and neutrals and maximize natural light.
2.    Natural materials like wood and stone
Natural, utilitarian elements remind you of the farmhouse kitchens of yore. Wood is the perfect choice for countertops, cabinetry and shelving, and furniture, especially the warmer varieties. They look great on top of a neutral base.
If you don't want to look way too woodsy, consider using stone finishes, like a marble countertop or a stone undermount sink.
3.    Metal fixtures
Satin brass, wrought iron, copper, and bronze features are all welcome in a farmhouse kitchen. Mixing and matching metallics and natural materials in a farmhouse kitchen creates a custom look without adding lots of colors. Faucets, lighting fixtures, and even in small details, like drawer pull, stove handle, and pan racks are some notable metal features in the kitchen.
4.    White and woodsy palette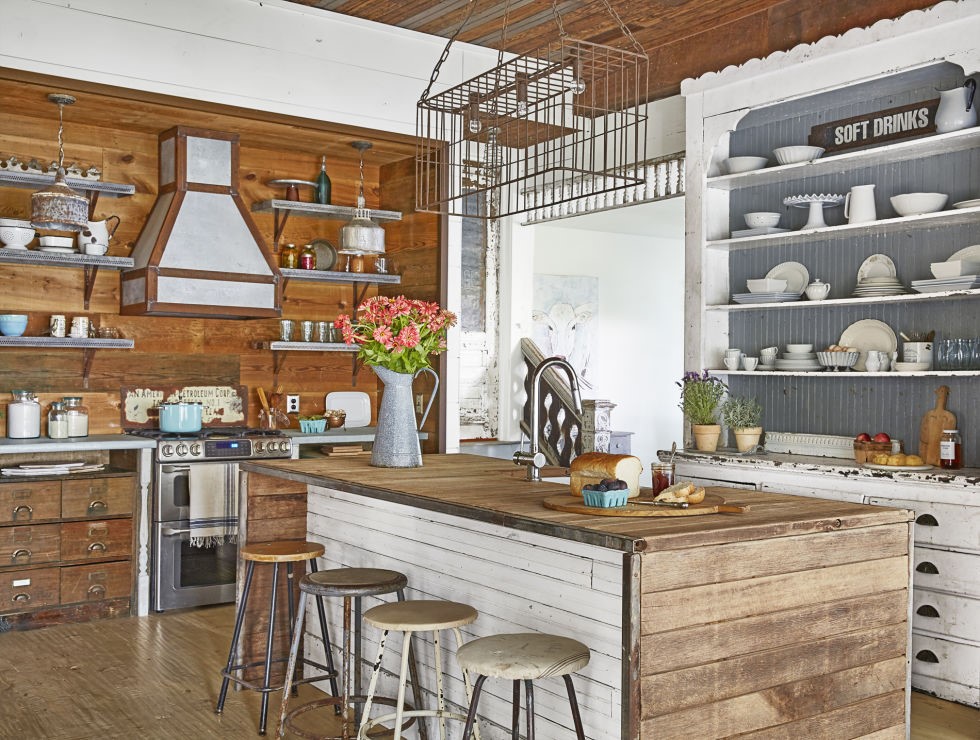 Traditionally, a farmhouse kitchen includes a plenty of white. White walls, for instance, effectively show off charming rustic wood features and highlight architectural elements. If you want to punch up your white walls, go for subway tiles or white wooden planks for added texture.
Don't forget to include plenty of contrast, like mixing dark and light colors, smooth and rough textures, and glossy and matte finishes, and putting natural elements next to metallic features and painted elements.
5.   A few industrial/antique elements
To cement that farmhouse feel, bring in a few industrial and antique elements in your kitchen.
Turn to your lighting and accessories. Industrial lighting, like oversized pendant lights over the island, make a great focal point in a modest kitchen of white and wood. Additionally, bringing in a few antique furniture pieces, tableware, and handicrafts add a subtle rustic appeal to your space. Some examples are hand-crafted wooden rack for utensils, customized chopping boards, and antique chairs and bar stools.
Just make sure to use these carefully, as having too many can make space feel a bit dated.
6.    Open shelving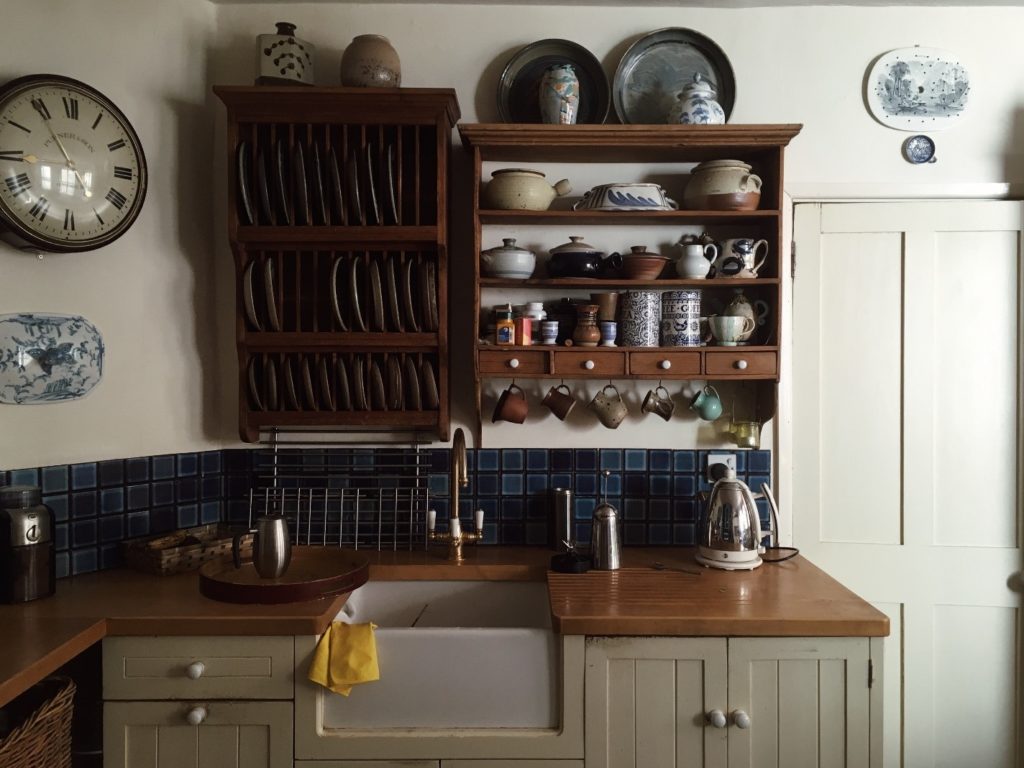 Farmhouse kitchens are open and airy. That said, consider replacing cabinets with shelves – open shelving helps create an effortless, casual ambiance in your kitchen. Not to mention, the essentials are within your easy reach.
If you have lots of pretty ceramic coffee mugs, teapots, tableware, then it's time to display them with exposed floating shelves.
7.    Vintage finds and other playful accessories
Give your kitchen a homey feel with accessories. Playful elements including chalkboard walls, vintage wall clocks, cookbooks, photos and art in wooden frames, and quirky wooden signages fit right in with farmhouse style.
Be creative with storage pieces too. Display charming country-style canister sets, plants on teapots or metal watering cans, crates and wicker baskets for fresh produce, and other wooden elements.
8.    A hint of age
Show a hint of age – small shabby chic details play a huge role in adding character to the farmhouse style. Thoughtfully curated elements that feel timeworn, like patina or oil-rubbed bronze cabinet pulls, an oxidized metal effect for metallic pieces, and slightly salvaged or whitewashed wood incorporate that charming rustic aesthetic to your space. Accessorize with a few distressed vintage finds.
9.    A few modern pieces for urban living
Want to have a farmhouse kitchen with a modern twist? Bring in aspects of metropolitan dwelling through appliances and light fixtures.
Light fixtures made with lustrous metals stand out from white and woodsy elements. Glossy stainless-steel appliances (refrigerator, microwave, stove, and dishwashers) also make the rustic cooking space look more modern. Just because you're going for a traditional farmhouse kitchen doesn't mean you'll fall short on state-of-the-art appliances and contemporary amenities.
Author Bio: Carmina Natividad is a resident writer for Wincrest Home Builders, one of NSW's most experienced and well-renowned home builders aiming at building and designing modern family homes in Sydney, Newcastle, the Central Coast, and the Hunter. She loves writing articles focused in real estate and interior design.