Getting the Grill On: 7 Elements of a Perfect Barbecue Party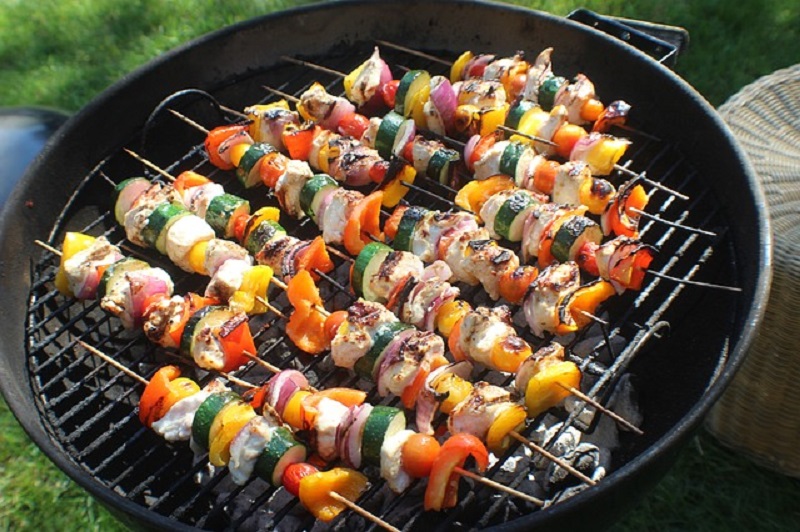 Eating Al Fresco is always a fun thing to do and it is not hard to create a real party atmosphere when the sun is shining and the smell of delicious food is filling the air from the barbecue.
If you want to make the most of those amazing opportunities to enjoy some great food and socialize with friends and family there are a few things that combine to make everything just right.
From the right seating to what you are putting on the grill, here are some pointers on what makes the perfect barbecue party.
Plenty of comfortable seating
You want to make sure that everyone is comfortable and relaxed if the party is going to be a big success and no one wants to leave the event.
A great idea would be to invest in some giant bean bags that you can scatter around the party area. This creates an informal and relaxed atmosphere straight away and they can be a lot more comfortable to sit on than chairs, especially if you are going to be there for a while eating, drinking, and chatting.
You might also want to take a look at Fombag covers so that you can jazz up your bean bags and choose some colors that say you are in the mood for a party.
Make sure you have a good time too
It should be remembered that the host should be having a good time as well as all the guests and there are a few ways to take the stress out of organizing a barbecue party.
One of the best things you can do before anyone arrives is to prep all the food you will be serving.
If you can prepare the meat for grilling and have all the salads and sides ready and waiting in the fridge before the party starts it will take a lot of stress away and allow you more of an opportunity to relax and chat, even if you are in charge of the grill when its time to start cooking.
Get the barbecue ready for action
There is nothing worse than running out of gas or charcoal and finding that you have to go and find supplies to carry on with your outdoor cooking.
It is not the same if you have to use your kitchen to cook the food and if you have to go and get another bottle of propane or more charcoal it is going to hinder your party plans and schedule.
There is no need to keep everyone waiting as long as you make sure you check you have enough supplies to cook the food beforehand, so stock up on an extra bag of charcoal or check the gas level the day before your party.
It's good to share
If you are having a party with friends and family it is always fine to ask all of your guests to bring something to the party.
If you know someone is great at puddings or you could do with a few extra side dishes to make sure there is enough food to go around there is nothing wrong with asking guests to bring some sort of food offering to the party.
It is normally a chance for someone to show off their culinary prowess and they won't mind contributing an awesome salad or an amazing summer pudding if that is their specialty.
No need to feel awkward about asking people to bring side dishes as it adds to the communal and party atmosphere when you share in that way.
Cater for all tastes
To be the perfect host you want to make sure that everyone gets to eat what they like and want rather than just cooking burgers and hot dogs.
There is a growing army of vegetarians out there these days and even if you are a committed meat lover it is worth remembering that there are plenty of great veggie options that look and taste amazing.
Grilled corn on the cob or some halloumi and pepper skewers will go down a treat with everyone and it will keep everyone happy if you create a menu that caters for all tastes.
Sort out the drinks menu
A great barbecue party also relies on having the right drinks options for it to be a resounding success with all of your guests.
You might decide to create a summer cocktail to go alongside the beers in the cool boxes and don't forget the non-alcoholic options that a number of people will always prefer to be served, especially if they are driving or there are health reasons.
As well as preparing the food beforehand it would also be a good idea to have your drinks prepared and ready to serve so that you can put a glass of something nice in their hand when guests arrive and you can focus on keeping an eye on the food.
Don't forget the pudding
When you are asking guests to bring a dish along with them it is often the case that people will suggest they make a speciality pudding that they are always getting compliments for.
It makes sense to divid up the food contributions between sides and puddings so that you have a good spread of options.
If you want an easy pudding idea it is so simple to put a few bananas in their skins on the barbecue and even add a splash of liqueur for those that want a more sophisticated flavor.
Lighting changes everything
There are so many amazing outdoor lighting options available now and colorful LED patio lights will help create the perfect party setting and ambiance.
You might also want to consider decking lights as a way to stage your entertaining area.
If you mix all of these key elements together you will be on course for hosting what turns out to be the perfect barbecue party that everyone talks about long after it has ended.