Why Glass Side Table is One Necessary Item for Bedrooms
Bedrooms in modern homes are decorated with lampstands, salt lamps and many other interior décor features that make them look elegant and classy. Usually, the homeowner selects them and then adds furniture among other accessories that they wish to. For those that like DIY projects, they can design and make their glass side tables to be used in their bedrooms. You may opt to have a nightstand when you have heavy items that you need to place on them when sleeping. However, the glass side tables are the trendiest and most recent interior decorations for bedrooms. You may be wondering why you need a glass side table for your bedroom yet you already have a night lampstand beside your bed. Well, there is no harm in trying new bedroom decoration ideas. A bedroom with glass table will be more attractive and contemporary compared to the one that has a conventional layout and furniture. You should be willing to introduce a new side glass table in your bedroom to transform your bedroom. There are many reasons why you should have a glass side table in beside your bedroom which will be discussed in this article if you are still wondering how, stick around to find out more.
Side Table Features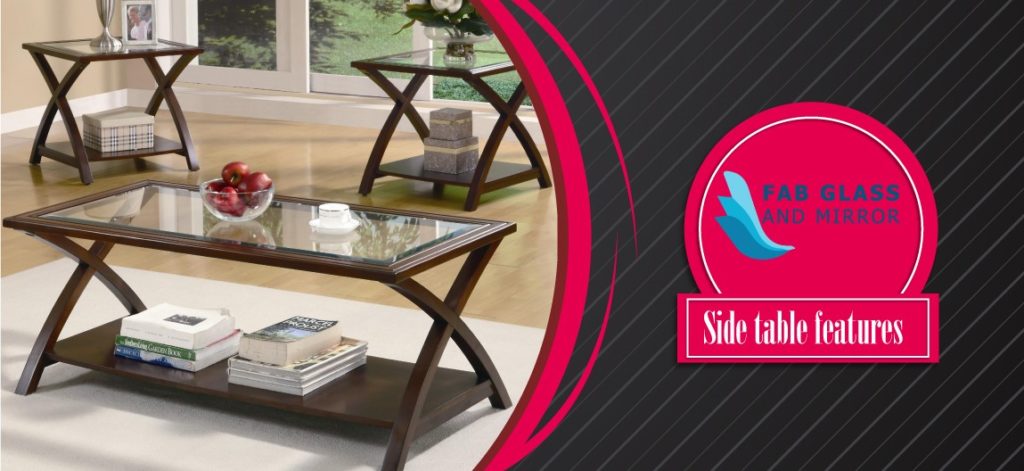 Drawers
Some features can be added to your side glass table to make them convenient for use in the bedroom. Usually, it is essential to have the drawers installed in a way that you can access them conveniently from your bed. The drawers can be used for the storage of your gadgets when you are in the bedroom. Ideally, you can have more than one drawer on your glass side table. The more the drawers, the more space you will have store more gadgets. Therefore you should consider adding more side drawers if you had one.
Charging Hub
In modern time, there is a need to have access to an electricity source that is easily accessible even from your bed. A glass table with a charging hub can be the best and trendiest addition to your bedroom with glass table. The charging hub is designed to offer you convenience when you need to charge your phone or any other gadget. With the charging hub, your bedroom will look more contemporary, and you will not have troubles charging your gadgets while you sleep.
LED Lights
Led lights added to your glass tables can help to illuminate it while your overhead lights are switched off. Since the top of the side table is made of glass, you will find the LED useful since it will light up the inside of the table. This way, you can access any item that you need with your overhead lights off. You only need a conveniently positioned switch so that you can switch the LED lights on or off whenever you need to retrieve an item from the glass side table.
Shelves
Having shelves for your glass side tables can help you transform your bedroom into a modern space. Most homeowners depend on the trendiest designs to decorate their bedrooms since they want to make them elegant. Adding glass shelves with a door can be suitable for storage of items such as medicines and any drink. You may need to quench your third in the middle of the night, and your kitchen might seem too far. Having access to a liquid like water in your glass side table placed beside your bed will do the magic in your bedroom. If you are looking forward to introducing a modern interior décor, you should consider a glass side table that has glass shelves added. Side table for décor within your bedroom will always give it that touch that the traditional design would no.
Side Tables for the Coach
In spacious bedrooms, there may be coaches placed within them. The coaches provide comfort for the homeowner whenever they want privacy from other people. Side tables can be put beside the coaches in the bedroom where the owner can place coffee, gadgets, and medicines among other essential items. Usually, it is advisable to have a decorative side glass that will complement the coach and the interior décor of the entire room. If you are looking to transform your bedroom with a glass table, you need to ensure that you get the right trendy design that will complement the bedroom's theme which includes the color.
Fab Glass and Mirror Company offers glass side tables that are used for decoration of bedrooms, living rooms, and offices. The company offers high-quality products that have a long life which will leave you satisfied and not worried about having to replace or repair your items due to damages.