All you Need to Know About Installing Custom Kitchen at your Home
You should understand that kitchen is the most important part of your home which can't be left neglected because it is the area where you will spend most of your time with your family. You need to learn about installing custom kitchen at your home and you should know about the measurement of your kitchen because it can help you to build your custom kitchen properly. With the custom kitchen designs, you can choose any color, tiles, splashback, countertop, lighting system and cabinets for your kitchen.
Measurement of your Kitchen
There are lot of things which needs to be keeping in mind while making a plan for installing custom kitchen in your home, and you must take the measurement of your kitchen before installing the same. The first thing that will require to do that you should use the technical drawing of your home and if by chance you don't have this then you should contact with an architect to sketch the layout for your custom kitchen. You can follow the below steps to design your custom kitchen:
Take measurement in your kitchen from corner to corner and wall to wall so that you will get proper dimensions.

You have to measure the height of the wall from your floor to the ceiling point. Then you can estimate the raw materials needed for renovating your kitchen.  

After you are done with the measurement of wall and height, now you have to take the measurement of the position of the widows and also you should not forget about taking the size of doors and windows. Afterward, you can install the windows and exhaust system in these areas and cover them with the decorative blinds. 

You should note that where you want to open the doors and windows that you need to define the direction in which side you want to open them.

Now after marking out above things you need to allocate space for lighting and other useful things such as water and gas connections and light switches.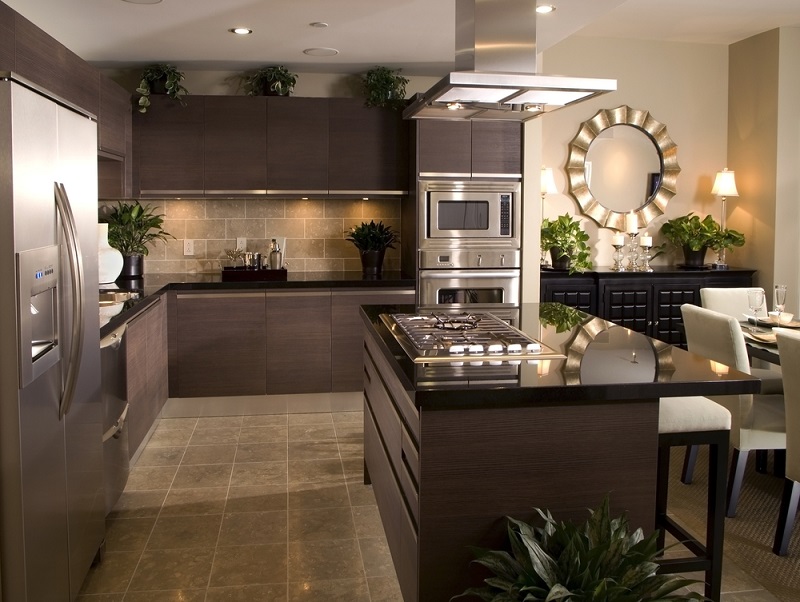 Choosing a Kitchen Style
After taking measurement of the doors, windows and position of the windows now you have to select a suitable kitchen style according to your requirements. You can choose from different colour styles and to customize your kitchen you can also choose limestone or marble for kitchen flooring. You can also visit custom kitchen showrooms to identify a suitable matching style for your kitchen.
Select a Custom Cabinet and its size
You have to understand that with selecting different door style for your kitchen you have think about custom kitchen cabinets because custom kitchen cabinets are available in different size and styles. You should visit a custom kitchen showroom so that you can see the different functions of kitchen cabinets. Even you can also customize some wall mounted cabinets for your kitchen and include several drawers and shelves to store your utensils.  
Kitchen Setup
The first thing you need to do is to draw the kitchen setup. You have to separately allocate space for washing, cooking and refrigeration zone. There is single line kitchen, parallel kitchen, kitchen with island or bar, L-shaped kitchen and U-shaped kitchen.
Selecting Countertops, Appliances and Other Accessories
You can use your existing kitchen appliances like microwave, cook top and oven. You should check for the electric and gas kitchen appliances. You should wisely select the kitchen countertops like you can choose from duropal high pressure and corian countertops.
You are recommended to hire a kitchen expert so that they can guide you better and will also help you to build your dream kitchen.