A Plan for Interior Designing Your Villa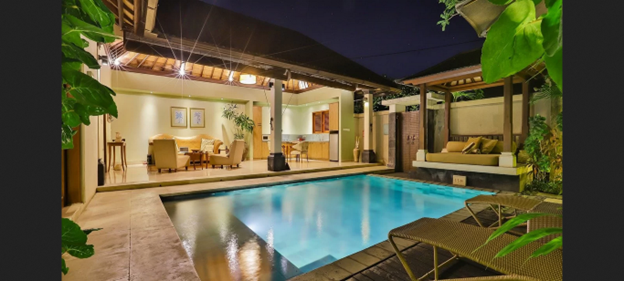 To understand the overall concept for the façade and landscape, the interior design process of a villa always begins in coordination with the architectural design. This way, we can ensure a consistent design approach between indoor and outdoor spaces.
Once the overall style is established, we investigate the space possibilities in relation to the villa's general volumes, façade openings, views, privacy constraints, and so on. 
This process may be complicated because there are several architecture and interior design elements to consider, but we'd like to share best tips that may help you ensure you don't make a mistake with your space planning!
Consider Your Daily Life
We frequently come across layout designs that appear attractive at first glance; however, when we ask the client about how they intend to use the spaces, we conclude that the space was designed by prioritizing occasional events that may occur 5 or 6 times per year. Make sure your space design is centered on what you'll need 360 days a year, not the other 5!
The Interior Design Planning Process Begins with Parking the Car
When researching interior layouts, you should begin by asking yourself, "Where will I park the car?" Is it simple and easy to use? How far do I walk from my car to the main home entrance? Is this a shady path? Is there a privacy concern with the gate access and family outdoor space? All of the answers to these questions will be taken into account at an early stage when designing the interior spaces on the ground floor.
Views, Orientation, and Neighbors
It is critical to understand whether there are any relevant surroundings to consider, such as nearby neighbors or any interesting landscapes we might want to explore… As a result, we can make appropriate window placement recommendations. Simultaneously, keeping in mind the movement of the sun throughout the day will assist us in avoiding future overheated areas. We propose shades or any other façade design solution in this manner.
Connection to the Garden
It is critical to consider how we articulate the outdoor areas to provide spaces for guests and family members in conjunction with the interior design, allowing us to create different atmospheres and improve segregation between family members and other guests.
Here are some more options that will undoubtedly assist you in designing the villa.
A Luxurious Living Room Can Set the Tone for Your Villa Design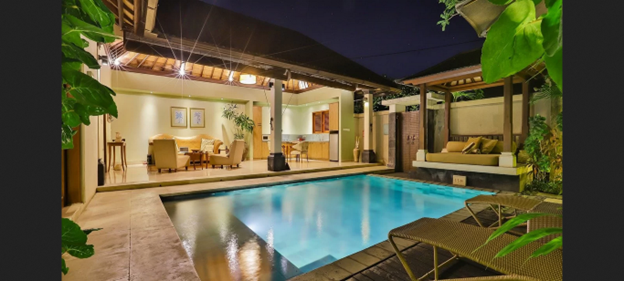 The most significant advantage of having your own villa is the ability to build high ceilings. It makes the space appear larger and more spacious. So, take advantage of the height by installing a long designer chandelier. You can also add long curtains for a more formal appearance. A variety of modular sofas and accent chairs can easily expand the seating options. It's especially useful when you're entertaining a large group of people. Make your living room an entertainment zone by installing a modular TV unit and a large TV on the wall. The living room is further enhanced by the floor-to-ceiling wooden paneling on the walls.
A Villa Design Plans Elegant Dining Room
A stylish dining room that is the talk of the party is required for villa designs. This dining room's dark theme adds drama and glam to your villa. The all-black 6-seater dining table, luxurious suede chairs, and light wooden flooring add a fashionable contrast to the room. In the meantime, tinted glassware and a designer chandelier complement the white room's Victorian green accent wall. Without a doubt, this luxury dining room will be the focal point of your villa.
A Simple Kitchen Layout for Villa Interior Design
A large kitchen is essential in a villa. To keep the kitchen from looking cluttered, villa designs must include plenty of storage space for groceries and appliances. This design's kitchen counter is L-shaped, with plenty of drawers and cabinets, as well as wall-mounted covered cabinets to maximize storage space. Furthermore, the massive island can be used in a variety of ways. You can use it as a breakfast nook while adding additional storage below with cabinets and a small shelf. The large picture windows make the kitchen feel even larger and more open. If you want to enjoy the view while eating, you can add a small dining table near the windows.
To Retire Comfortably in a Bedroom of a Luxury Villa Design
When you retire to your bed at the end of a long day at work, the atmosphere should be soothing. That is why the master bedroom should be thoughtfully designed. It should not only be light and spacious enough to accommodate a king-size bed, but it should also reflect your personal style. A modern luxury villa design's master bedroom should include an extra lounge area, a TV unit, and possibly a small study nook if you need to get some work done quickly. The large floor-to-ceiling curtains make the room appear larger. Wall paneling is also popular. It can be used to make a gallery wall or as a do-it-yourself project with printed wallpaper.
The Importance of Bathrooms Cannot Be Overstated
When planning a villa interior design, don't forget to include a large bathroom with a bathtub. So why not? You have enough room to put one in. So, on weekends, you can relax and enjoy yourself. If you don't like baths, we recommend installing a separate walk-in shower. A wall-mounted modular cabinet is ideal for storage.
Relaxing Evenings in Your Balcony Bar Area
Enjoy your evenings on your balcony while sipping a glass of your favorite wine. When designing your modern villa, don't forget to include a modular bar unit, a few high chairs, some plants, string lights, and comfortable lounge chairs. These elements and accessories can drastically alter the atmosphere of your balcony. This can be another focal point in the interior design of your villa.
Conclusion
We hope these tips provide you with some basic guidance early in the design process as well as a deeper understanding of space planning and interior design services; we look forward to assisting you with your project!