Roofing and Storm Damage: What Every Homeowner Should Know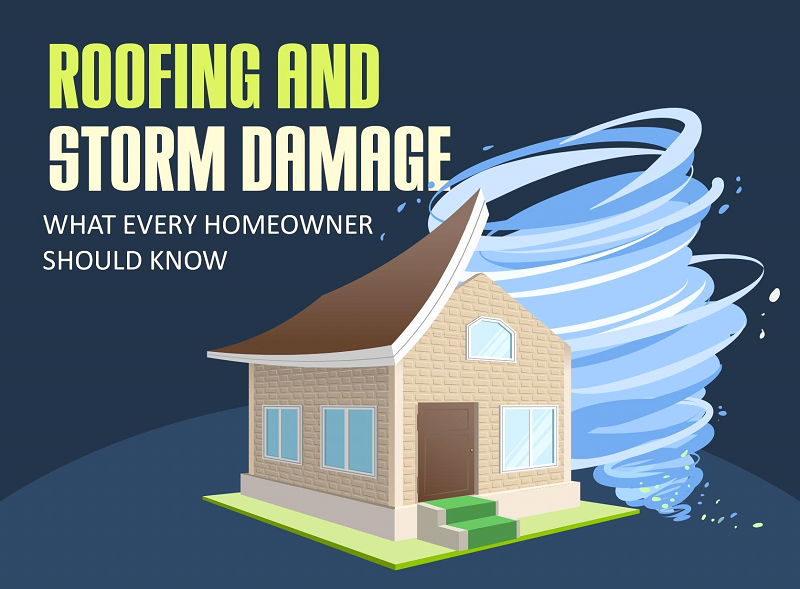 One of the first areas hit by a storm is the roof, and if you're lucky, it will be the only one damaged. As your home's main protective covering, your roof is built to withstand harsh weather, but sometimes, it fails when the forces of nature are too strong. Fortunately, there are so many things you can do to keep your roofing system in top shape. Let's take a moment to go over how you can assess storm damage and prevent further storm-related issues on your roof.
Interesting Facts About Storms
Confused about the difference between the common weather phenomenon you hear? What's a hurricane? How does it differ from a typhoon? Or a cyclone? The truth is, hurricanes, typhoons, and cyclones are all the same—they are storms. The only difference between them is the location where they occur. In the case of the United States, for instance, as it's part of the Atlantic and Northeast Pacific region, Americans use the term "hurricane". The same type of phenomena is called a "typhoon" or a "cyclone" in the South Pacific and Indian Ocean regions.
Unlike storms that form over water, tornadoes form over land. But though they form and occur over different areas, storms and tornadoes can easily cause havoc on homes in affected regions. Keep in mind when the hurricane season begins (June 1 in the Atlantic, for instance) so you can make sure you've done your preventive home maintenance tasks before harsh weather begins.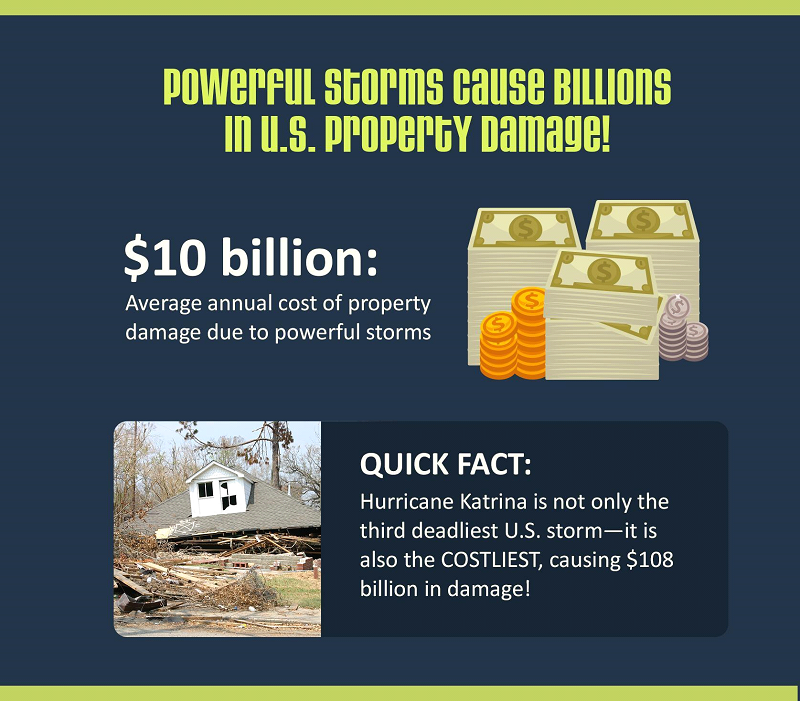 The Cost of Storm Damage to Homeowners
Do you know what a severe storm could cost you? Each year, the average cost of property damage due to powerful storms reaches up to $10 billion. Hurricane Katrina, the third deadliest storm in the U.S., also holds the record in terms of the costliest storm in the country. In 2005, it caused as much as $108 billion in damage to American homes due to its extreme wind speeds and intense rainfall.
The most common damage to the home after a storm occurs on major exterior home components, such as the siding, windows, gutters, and most especially, the roof. Hail, strong winds, and tornado-weather can cause extreme wear and tear to your roof, making your home less valuable and more susceptible to water damage. When this happens, your home looks worse for wear and fails to provide the ample protection your family needs.
Top Causes of Storm Damage and Ways to Identify Issues
During a storm, many elements can impact and cause havoc on your roof. Some of these are high winds, torrential rain, heavy snow, hail, and falling debris. Hail, for instance, can dent your roof or knock your gutter system loose. This can lead to water penetrating your roof and overflowing from the roof edge, triggering basement flooding that can cause issues in your foundation, as well as damage to your siding and landscape. Separately, hail can also crack or dent siding. The wind, on the other hand, can tear off roofing material, giving moisture an opportunity to seep into your interior.
After a storm, it's crucial that you do a visual inspection of your roof from the ground to see any significant damage. Keep an eye on the roof itself for missing, loose, and broken material. Another important issue to take note of is leaks. Examine your ceilings and walls for stains or dark spots to see if your roof is suffering from major leakage. Remember that the actual inspection should be done by professionals. When checking your roof for leaks and other visible issues, use binoculars to give you a clearer view.
Leave the Job to the Pros!
Roof inspection, repair, and other roofing jobs are not only complex; they can also be dangerous. Each year, more than 90,000 people receive emergency room treatment from ladder-related injuries, and many of them are homeowners attempting to inspect or even repair their roofs. That's the reason you should leave your roofing projects to the pros.
A licensed, experienced, and insured roofing contractor is trained to perform any roofing job your home demands without risking your safety. They use appropriate safety gears and tools, and have a highly skilled team that can climb up your roof efficiently. They can fix any problem using the right techniques; if your system requires it, they can also replace your roof completely to prevent further damage once a new storm sets in.
It's always better to ensure your family's safety when a storm is approaching. What can start out as a mild hurricane can quickly turn into a massive storm that can cause flash floods and powerful winds. Preparing for the worst can often be the difference between staying safe and suffering from storm damage, so before the hurricane season approaches, be sure to call in an expert roofer to help you out and prepare your home.
Author Bio:
Jim Lane, In 1988, Jim Lane started A-Best Roofing company in Tulsa, OK. He believed customers deserved access to superior contractors with a high level of integrity and dedication to quality. Together with his skilled staff, Jim has always put the client first, providing unbeatable warranties and quality workmanship.