Custom Bedroom Decor for Small Rooms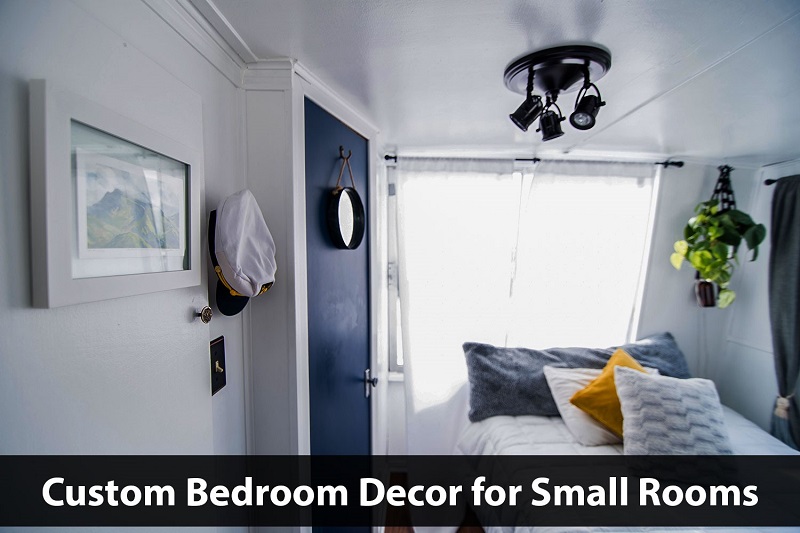 You might wonder which room in your house represents your personality and style. We bet it would be your bedroom. Bedrooms are the vital spaces which comfort you after a long hard day and also revitalize you for the next day. Everyone loves to customize their bedrooms in accordance with his or her own thoughts, wishes and dreams. Customizing your bedroom is a challenging task and also a fun filled one. It only requires some out of the box creativity and imagination.
Since the bedroom is the most intimate space to us, it should represent our personality. With this in mind, our Interior Designers at Seven Dimensions have sorted out some fantastic decor ideas to make your most intimate space into a pleasant and comfortable environment. Thus, here are some simple yet stunning custom bedroom decor tips for small rooms.
Light and Bright:
Not to forget, lighting is the deciding factor of the look of your bedroom. Since the bedroom is directly related to relaxation, factors like light and colour play a significant part in the customization of your bedroom. To make your small bedroom look more spacious and soothing, do avoid using too much of red and dark shades. Lighter colours like white do really brighten up your intimate space and also help you to gain a peace of mind. If you don't prefer too much of soft or neutral colours, you can even add different layers of textures or patterns to the existing light coloured wall.
Our designers at Seven Dimensions think that a simple layer of pattern and texture would make a remarkable addition to your bedroom. Bedside lamps are the perfect fit for your bedroom decor. Notably, hanging lamps or pendant lights instantly brighten up your room and also your mood as well. The pendant light also serves as a style factor to your room without occupying any floor space.
Minimalistic Decor:
A minimalistic interior decor offers a comfy sleeping space while adding ample storage. We all know that the bed would be the ultimate focus of your bedroom decor. Provided that, furniture other than the bed should be kept down to a minimum. Having built-in storage furniture would make your room look better and sleek. Similarly, designing your bedroom with hard materials like stainless steel and glass is not advisable. Minimal use of steel and glass in the interior decor of the bedroom is appreciable. On the other hand, wood is always a good choice for the interior decor of the bedroom.
Including a trendy wardrobe closet to your sleeping space would be a stylish complement to your bedroom.
Nurture the Natural Light:
Natural lighting is an essential part of the interior décor of your bedroom. Even though the bedroom is mostly used for sleeping, natural lighting still has got a major part to play during the day. Especially when the early morning sunshine falls inside the bedroom and also awakens us to an energetic day. Smart natural lighting options would create a positive effect on the look and feel of your bedroom. To explain this, the soft natural light coming from the windows would fade the dark edges of your bedroom. Thus, making it spacious and larger.
You have to sort the combination of artificial lights with the natural lighting. The combination you incorporate into your bedroom should convey a sense of order and balance. You can also fashion up your bedroom decor with some trendy curtains or drapes. Curtains with contrast colours are the ideal combo for your light coloured wall. Surprisingly, mirrors can create an intense illumination in your small bedroom by reflecting the natural light to the entire space and also makes it look spacious.
Vertical Shelves:
Incorporating the vertical shelves in the interior decor is the talk of the town. No matter how small your bedroom is, these floating shelves would accommodate a pile of books, clothes and even your sweet little bonsai. Incorporating this decor into your bedroom interior is an excellent choice to keep things tidy and uncluttered. You can also add a hanging nightstand to match this floating space saver for some extra space in your compact bedroom.
For more interior design ideas and tips, do contact our expert interior designer team at Seven Dimensions.
About the Author:
Krishna is a Chennai based writer and he is in love with everything that has to do with writing. As of now, he finds himself in advertising because it's a bit more fascinating. He loves listening to AR Rahman and Bruno Mars while riding on his Classic 350.